JUSTONE Keyhole-Back Crochet-Lace Blouse USD 42.32.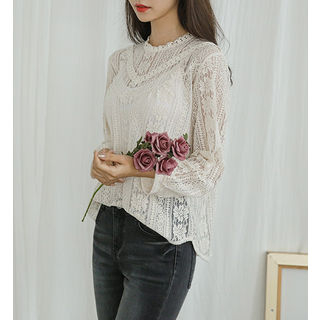 #JUSTONE Blouses & Shirts.
Buy women Blouse is now available in the color Black, Cream.
Brand from South Korea: JUSTONE. Color: Black, Cream, Materials: 50% Nylon, 50% Cotton, Featuring a one size fits all design. Size: Shoulder 40cm, Bust 102cm, Sleeve 54cm, Arm Hole 43cm, Sleeve Circumference 20~37cm, Hem 108cm, Total Length 62~65cm, Care: Dry Clean.

USD 42.32
Shipping and delivery
Extra fast delivery and free shipping options are available. Your JUSTONE Blouse should be delivered within 7-14 days.
Model is wearing a size One Size: Shoulder 40cm, Bust 102cm, Sleeve 54cm, Arm Hole 43cm, Sleeve Circumference 20~37cm, Hem 108cm, Total Length 62~65cm but more sizes and colors are available