Elisa Rachel Lace Trim Chiffon Blouse USD 22.32.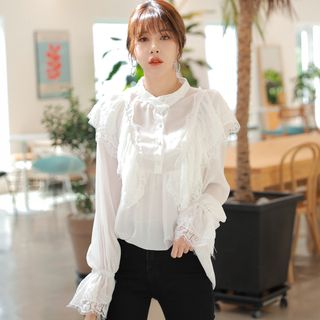 #Elisa Rachel Blouses & Shirts.
Buy women Blouse is now available in the color White.
Brand from China: Elisa Rachel. Color: White, Polyester was the obvious choice for the designers to choose as the fabric to manufacture this fashion statement in. Size: S: Shoulder Width: 36cm, Bust: 92cm, Total Length: 64cm M: Shoulder Width: 37cm, Bust: 96cm, Total Length: 65cm L: Shoulder Width: 38cm, Bust: 100cm, Total Length: 66cm XL: Shoulder Width: 39cm, Bust: 104cm, Total Length: 67cm, Washing and care instructions are on the label of the garment. To ensure a longer life and keep it looking at it's best, please follow the instructions.

USD 22.32
Shipping and delivery
Extra fast delivery and free shipping options are available. Your Elisa Rachel Blouse should be delivered within 7-14 days.
Model is wearing a size small: Shoulder Width: 36cm, Bust: 92cm, Total Length: 64cm M: Shoulder Width: 37cm, Bust: 96cm, Total Length: 65cm L: Shoulder Width: 38cm, Bust: 100cm, Total Length: 66cm XL: Shoulder Width: 3 but more sizes and colors are available